Billet Distributor 8.5mm Spark Plug Wires Coil 75-85 GMC 7.0L 427 7.4L 454 V8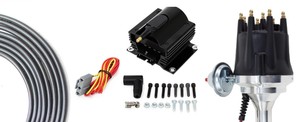 ---
MAXX Performance Spark Plug Wires, Distributor Cap and Coil
| | |
| --- | --- |
| Manufacturer Part Number | MAXX 99482K, MAXX 517K, 9999K |
Includes the following:

1) MAXX Performance 8.5mm Ferrite Spiral Core Spark Plug Wires have a resistance of 500 Ohms per foot.  All wires are wrapped in a 500°F heat resistant thick silicone jacket to protect against current leakage and eliminates arcing.  

Each set of MAXX Performance wires comes with heavy duty wire separators. 

2)  MAXX Performance HEI Remote Mount E-PX 50,000v Coil.  MAXX Performance E-PX Coils are a direct replacement for OEM coils and produce 10% more spark energy.  All MAXX Performance coils feature American engineered high tech bobbins, high temperature shock resistant epoxy, magnetically optimized silicone steel cores and use brass contacts to further enhance the transfer of spark energy to the spark plug. 

3) MAXX Performance replacement ready to run vacuum advance distributor.  A maintenance-free magnetic pickup is responsible for triggering this ignition. This pickup is accurate to within 1° at any rpm so you won't have to worry about points float or "burbles" at top end speeds. The pickup is triggered by a precision reluctor that is attached to a hardened steel shaft. For increased stability, a sealed ball bearing is used to guide the shaft. 

Small cap dimensions:  3 5/8" wide x 3 3/8" tall Can be easily converted to mechanical advanceMaintenance-free magnetic pickup and precision reluctor create stable trigger signals throughout the rpm rangeCNC machined billet aluminum housing Polished steel shaft is QPQ coated and guided by a sealed ball bearingSupplied with bolt down distributor cap and rotor

Fits the following applications:

         
| | | | |
| --- | --- | --- | --- |
| Make | Year | Model | Engine |
| GMC | 1975-1985 | All Models | 6.0L 366 |
| GMC | 1975-1985 | All Models | 7.0L 427 |
| GMC | 1975-1984 | All Models | 7.4L 454 |
| GMC | 1985 | All Models w/ Cast Iron Exhaust Manifold | 7.4L 454 |
IMPORTANT:  This item will fit ONLY those applications provided above if you have upgraded to the HEI style distributor with an in-cap coil.  This will not fit the stock setup with a points style distributor.